Top Ten Tuesday is hosted at The Broke and the Bookish.
So, I took this one literally, y'all! I headed over to my to-read list on Goodreads and organized them by date to see which books had been there the longest.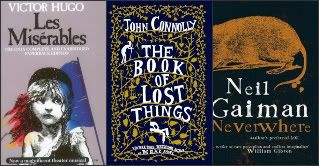 1.Les Misérables by Victor Hugo. No surprise here, this book is really freakin' long. Every single time I see it though, I want to pick it up. Maybe one day soon.
2. The Book of Lost Things by John Connolly. An adult(ish) fairy tale – sounds appealing. No excuse here, other than the fact that my copy is in storage at the moment.
3. Neverwhere by Neil Gaiman. Good grief, I really need to read this one. I know I'll love it when I do!
4. I Am the Messenger by Markus Zusak. I think I added this to my TBR right after finishing The Book Thief and then pretty much forgot about it. I do own a copy though, and it is really short (and on my fill in the gaps list like a lot of these are), so I most likely will be reading it fairly soon.
5. The Mists of Avalon by Marion Zimmer Bradley. A lot of friends I know and trust love this, I found a copy ages ago at Goodwill…so I don't know why I haven't read it yet! Somebody yell at me already.
6. Bleak House by Charles Dickens. Here is another that is no surprise, also a massive classic.
7. The Outlaws of Sherwood by Robin McKinley. Aha! Victory! This is actually in my short(ish) pile of stuff to get to soon(ish). Mainly because it is also on the fill in the gaps list. And because I like Robin Hood.
8. The Secret Garden by Frances Hodgson Burnett. I actually just read The Little Princess earlier this year finally, so I don't know when I'll get to this one.
9. The Last Unicorn by Peter S. Beagle. I keep meaning to pick this one up because it is Patrick Rothfuss' favorite book. It really is a sad day when you can't say you've read your favorite author's favorite book.
10. Tigana by Guy Gavriel Kay. An adult fantasy that everyone that has read seems  to love.