Top Ten Tuesday is hosted at Broke & Bookish.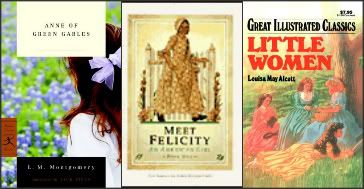 1. Anne of Green Gables by L.M. Montgomery. My first book love, y'all! There are no characters – to this day – that I love more than Anne and Gilbert. This entire series is phenomenal.
2. Felicity: An American Girl by Valerie Tripp. I love Colonial Williamsburg! My parents even took me there when I was younger. I have a Felicity doll, and my dad even made furniture to go with it! This series had a pretty big impact on my life. I read all the American Girl books, but these definitely had special importance.
3. Little Women by Louisa May Alcott. One of the first books I remember reading (granted, the Illustrated Classics edition). I also love the movie versions. The March family is really hard to forget. I never have been able to decide what I think about the way things turn out though.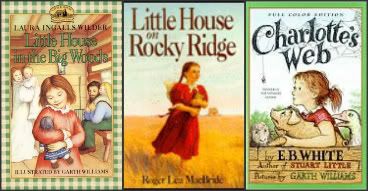 4. Little House in the Big Woods by Laura Ingalls Wilder. My mom gave me these books because she enjoyed them, and I definitely read them over and over again. I also watched the TV show even though it could not possibly have been farther away from the actual events.
5. Little House on Rocky Ridge by Roger Lea McBride. Little House: the Next Generation. I love these even more because they're much more well written. Rose makes some decisions as she became an adult that absolutely INFURIATE me though. What the heck was she thinking?!?
6. Charlotte's Web by E.B. White. Aww, Wilbur.

7. The Boxcar Children by Gertrude Chandler Warner. I owned a lot of these back in the day – I have a storage bin full of them in my parents' garage. Yay for awesome mystery series for kids.
8. Kristy's Great Idea by Ann M. Martin. Speaking of recycling bins – I have several full of these. I read hundreds of these books and I read them over and over and over and over and over again. Seriously. I was crazy obsessed with this series.
9. The Story of Little Black Sambo by Helen Bannerman. Anytime I stayed with my grandparents growing up, I'd find this book stacked with some other children's books in a closet. I'd always read it right before going to sleep. Kind of an odd story really, but it always makes me want to eat tiger butter.
10. Harry Potter and the Sorcerer's Stone by J.K. Rowling. No surprise here, right? I have always been a reader, but no series has ever made me love books more than this one – and none ever will.