Top Ten Tuesday is hosted at The Broke & the Bookish.
Note that the list is based on everything I read in 2011, not books published in 2011! Definitely  not an easy list to put together, y'all…but I think I even managed to (more or less) count down my top ten in order…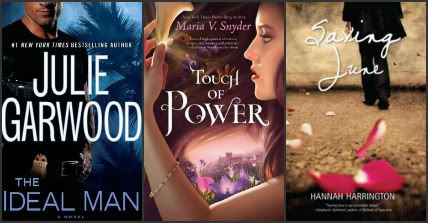 10. The Ideal Man by Julie Garwood. Definitely the best romantic suspense book I read all year – and in my opinion, Julie Garwood's best. The characters and plot were both great…between a crazy stalker and someone out to eliminate a witness, these MCs have their hands full.
9. Touch of Power by Maria V. Snyder. The first book of hers that I loved just as much as Poison Study! Really great adult (YA crossover) fantasy.
8. Saving June by Hannah Harrington. A definite stand-out in all the other YA books about loss.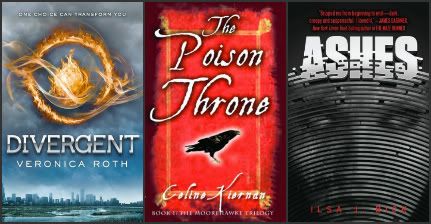 7. Divergent by Veronica Roth. It lived up to the hype, y'all. And that is saying a lot.
6. Moorehawke Trilogy by Celine Kiernan. You knew I'd cheat and throw in a series somewhere, right? These were actually the first books I read in January (thanks to a recommendation from The Book Smugglers). Awesome fantasy with great characters and a lot of dark plot twists. I want to reread just thinking about them!
5. Ashes by Ilsa J. Bick. I love the mixture of dystopian and horror. Mixes a dose of The Stand by Stephen King with the best of the YA dystopian genre.
4. The Wise Man's Fear by Patrick Rothfuss. Since The Name of the Wind is my favorite book of all time, it should come as no surprise that the sequel makes the list. This adult fantasy series is absolutely the best-of-the-best.
3. A Monster Calls by Patrick Ness. One of the most powerful and emotional books I have ever read.
2. You Don't Have to Say You Love Me by Sarra Manning. I would have never heard of this one if not for some fellow bloggers – I'm so glad I read it! Really well written contemporary romance. The characters are very realistic (and addicting!).
1. The Scorpio Races by Maggie Stiefvater. Definitely my favorite book of the year. One of the most atmospheric and well-written books I've ever read. It definitely came as a surprise since I'm not so much a fan of the Shiver series.
And…Honorable Mentions (because I can't help myself):
Shifting by Bethany Wiggins / Saving Francesca by Melina Marchetta / The Winter Sea by Susanna Kearsley / The Night Circus by Erin Morgenstern / A Crimson Warning by Tasha Alexander / The Dark Enquiry by Deanna Raybourn / Silk is for Seduction by Loretta Chase / What I Did For a Duke by Julie Anne Long