Top Ten Tuesday is hosted at Broke & Bookish.
Y'all, I push books on my mom all the time. She basically hasn't gotten to pick a book for herself in years. For freebie week, I decided to come up with a list of my favorites of what I've given her. So, in no particular order…
1. And Only to Deceive by Tasha Alexander. The first of the Lady Emily series. My mom and I have both read them all. I'm thrilled to be able to talk to somebody who appreciates Colin & Emily as much as I do.
2. Silent in the Grave by Deanna Raybourn. Another historical mistory series we both love. These are a lot darker, but my mama can appreciate some awesome Gothic atmosphere.
3. The Secret History of the Pink Carnation by Lauren Willig. More historical mysteries, but these are heavier on the romance. They're also hilarious. I'm a little (okay, a lot) sillier than my mom, so I think I probably appreciate these a little more than she  does.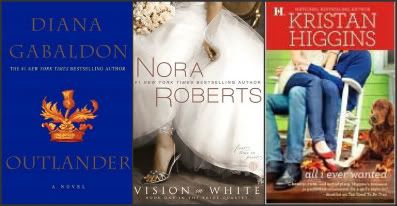 4. Outlander by Diana Gabaldon. The first of a series of massive brick-sized historical fiction reads. I'm almost shocked that I wanted my mom to pick these up – they are graphic! In both romance and violence. I might even be even more shocked that my mom is as helplessly addicted to the whole series as I am. (We've also converted my sister-in-law.)
5. Vision in White by Nora Roberts. My mom thought my addiction to Nora Roberts in high school was ridiculous. (Actually, she still thinks my NR love is ridiculous.) Now that I've made her read the Bride Quartet, she'll have to keep it to herself. I knew she'd get as addicted to the characters as I am! She even started describing them to my aunt and grandmother at Christmas. HA!
6. All I Ever Wanted by Kristan Higgins. This is the first of the Kristan Higgins collection I had her read, but she has already moved on to others! I knew she'd love the characters and their pets. Gotta love romantic comedy.

7. The Truth About Forever by Sarah Dessen. I had to give my mom something to read to show her why I love YA so much. I know she enjoyed reading this, so now she understands – at least a little.
8. Charleston by John Jakes. This is a little less of a recommendation, because my mom actually got me into John Jakes in the first place. Still: I read it first so I'm counting it anyway. We both love the North & South trilogy, along with everything else we've read that he has written.
9. The Red Tent by Anita Diamant. We both read this one years ago. I don't read a lot of Christian fiction (and this is really more historical), but this was definitely a brilliantly written book!
10. Redeeming Love by Francine Rivers. One of the only other Christian fiction books I've ever read. REALLY addicting love story, you guys. Seriously: even if religion isn't your thing.